-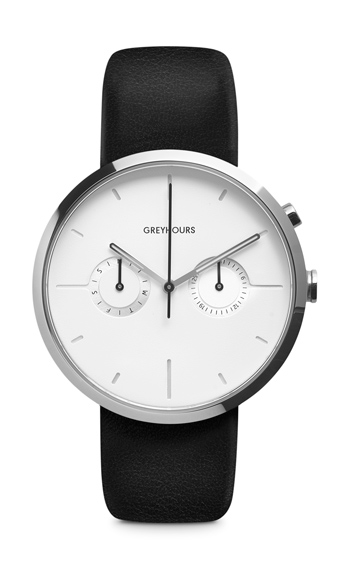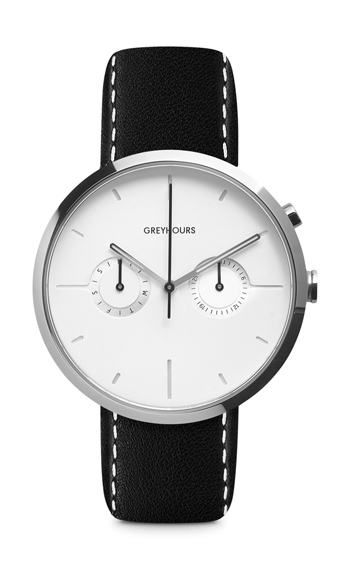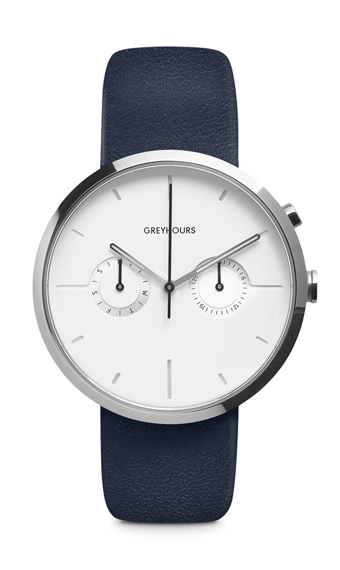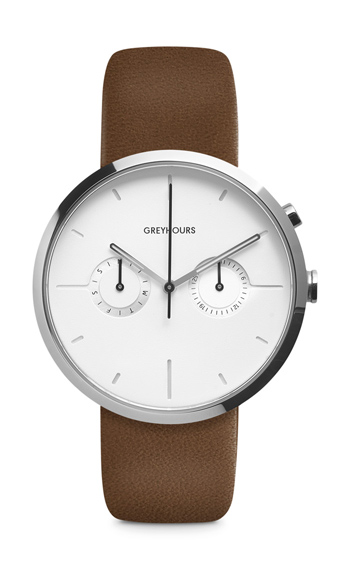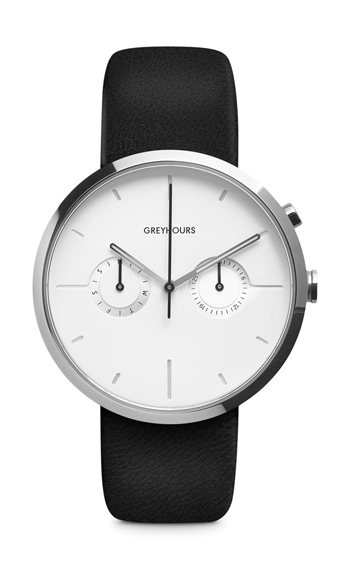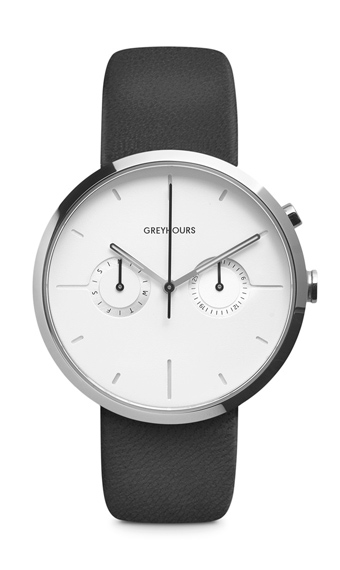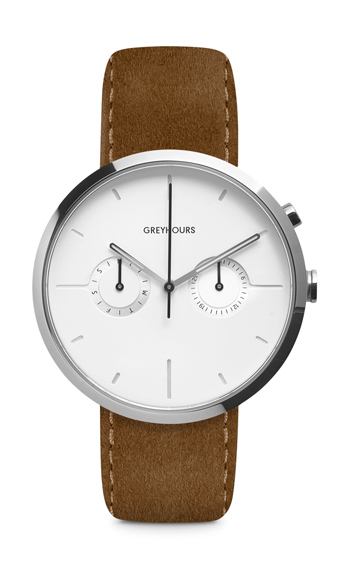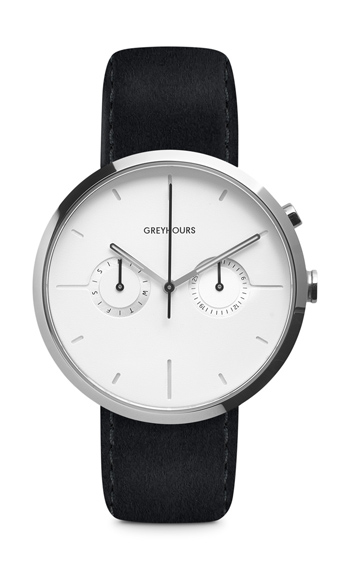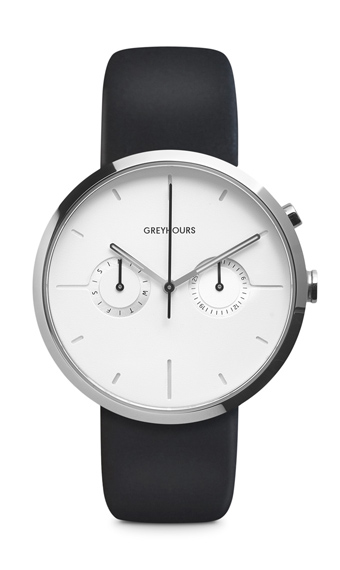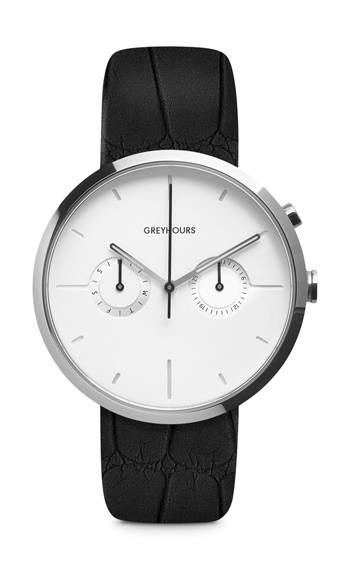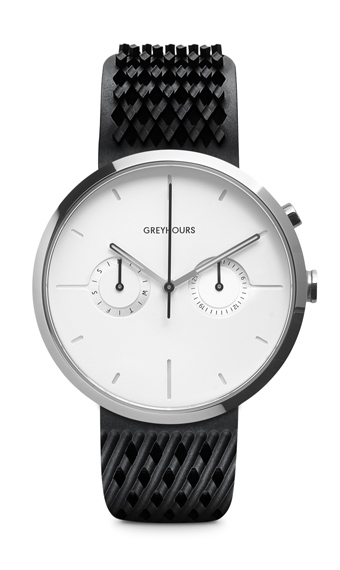 Lifetime warranty - Free returns
A round 40 mm diameter IPH-coated stainless steel case with a polished finish. On the white textured face are stamped large hour markers that absorb light reflection with efficacy and improve legibility. It displays hours, minutes, seconds, the day and date with all the precision of its IsaSwiss Calibre 9231/1890 movement.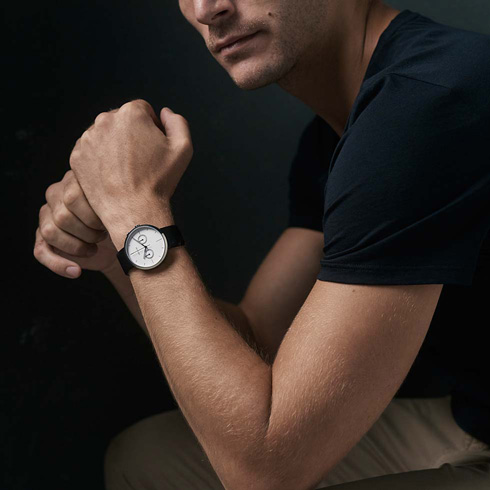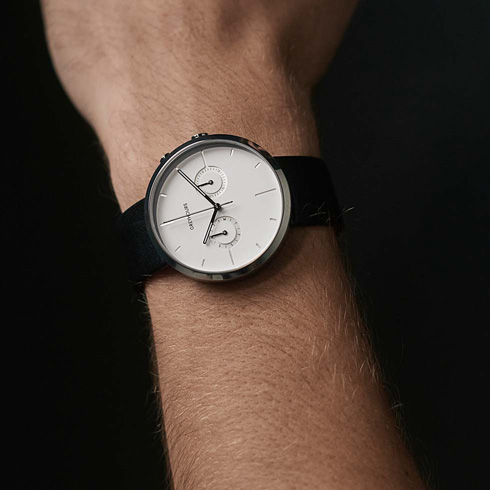 Specifications
Case: 316L polished stainless steel

Coating: IPH (Ion Plating Hardened)

Dimensions: 40 mm diameter/ 9.35 mm thick

Movement: Isaswiss quartz calibre 9231/1890

Functions: Displays hours, minutes, seconds, the day and date

Lens: Sapphire crystal with antiglare treatment on both faces

Bracelet: French calf leather

Closure: Polished buckle and tongue

Water resistance: Up to 5 ATM / 50 meters

Weight: 65 grams
Unique Watch Number
---
ENGRAVED IN COLD BRUSHED STEEL
Each of our timepieces are engraved with a unique watch number that will remain unchanged through generations. Enter the unknown with a feel of our finely brushed 316L Steel.
Our community believes in us, we thank them by manufacturing products that last.
Join us.
What is the duration of the warranty and what is covered?

GREYHOURS provides a lifetime warranty against all manufacturing faults and hidden defects.

Is the plating of my watch covered by warranty?

Friction or rubbing damages the plating of your watch and will not be covered by the warranty.
GREYHOURS technical service can replace deteriorated pieces for a reasonable price.

Is the strap guaranteed by GREYHOURS?

The GREYHOURS strap is not covered by the warranty because it is a contact element that requires changing regularly.
If your strap breaks, you can replace it with another of an identical design to the original.
We sell and deliver straps of some unique models. To obtain a new strap or to replace yours, contact our customer service at support@greyhours.com.
Our service will check the availability of the requested part and will provide you the corresponding quote by email.
The cost will have to be settled in advance including shipping costs. After receiving the payment, the part will be shipped.

How can I repair my watch?

1. Please send an email to support@greyhours.com and explain the issue with your watch.
2. Our support team will provide you with additional details and detailed instructions.
3. When your parcel is received by our repair center, you will be sent an email.

N.B.: Products returned by carrier without physical protection or badly protected will be under the responsibility of the client.
How can I register my watch on the website and activate the warranty?

Please find the number written on your authenticity card and register it on our website by following this link: www.greyhours.com/register
Please log into your account and enter the 16 digits serial number to register your watch and activate the warranty.

How can I be sure of buying an authentic GREYHOURS watch?

To be absolutely sure of buying an authentic GREYHOURS watch, ensure you buy from an authorized reseller, who will provide you with an authenticity card in a credit card format which features a sixteen (16) digit serial number, as well as the name of the shop and the date of purchase.
To check the authenticity of the watch, take the serial number that you will find on the authenticity card, connect to our website: www.greyhours.com/register and then follow the instructions.

How can I know the status of my repair?

The processing of a repair claim can take up to fourteen (14) working days. After this period, you can contact the service center or our customer services by giving your return number to request more information.
Where can I buy GREYHOURS products?

Our products are available in our online shop: www.greyhours.com and also from one of our approved listed retailers on our website. Please use our store locator to find the authorised dealer nearest to you. We recommend that you are careful and always use an authorised GREYHOURS reseller. Buying a watch from a third party who is unauthorised and unapproved by the GREYHOURS brand is at the risk of the buyer, especially if the watch is counterfeit, defective or stolen.

Where can I obtain advice or information?

To get advice or information, please contact us by email at the following address: support@greyhours.com.

Do I need to open an account to place an order?

All orders placed on our website www.greyhours.com require the creation of a customer account. Access to your "Customer Account" is necessary to identify you by using the email addressed that you provided during the creation of your account as well as personal and confidential password that you chose.

What do I do if I have forgotten my password?

Click on the section "forgotten password" then follow the instructions that you will receive at the email address registered when you created your account.

What are the safeguards for confidentiality and security?

The data collected is only that which is necessary to deal with your order and remains confidential. You have a right to access, modify, rectify, object and delete your personal data. To exercise these rights, please write to us at: support@greyhours.com.
How can I obtain technical assistance for my watch?

To obtain technical assistance, please contact customer service on support@greyhours.com. Our agents will help you adjust your watch and resolve all technical or functional problems.

What are the payments terms?

We accept payment by bank cards. The following cards are accepted "CB", Visa, Eurocard/Mastercard, American Express, Diners, Cofinoga. The products and holdings including the expense of packaging and delivery are payable at the time of order. Only the cost of products sent will be charged with delivery cost.

Is the payment on the GREYHOURS website secured?

The payment by credit card on the www.greyhours.com website is completely secured with the SSL protocol (Secure Socket Layer). During a purchase, the banking information and the payment details of the customer are directly transmitted to our bank. No customer's banking information will be transmitted through our website www.greyhours.com, thus will not be registered or saved in a public server or on our server.

Has my order been processed?

We will inform you of a more precise delivery date through a shipment advice sent by email to the address specified during the order process. The delivery address will correspond to the details that you have given us and that we have included in the email confirmation of order.

I have lost the instructions for my watch. Is it possible to receive new ones?

If you have lost the instructions for your model, you can contact our after sales service who will be pleased to send them by email.
How long will my order take to be delivered?

Depending on the country of destination, the parcel will be delivered within 3 to 15 working days.


What happens in case of delivery delay?

If we are not able to meet the deadline of delivery mentioned in the email confirmation of your order, with the exception of your failure to provide full payment, we will immediately contact you to send you a new delivery date.
Can I send a gift to an address different to mine?

All the countries in our coverage area can benefit from this opportunity.

What happens if I am not at home or can't be at home at the time of delivery?

In case of absence at the delivery time, a delivery notice will be left and it is your responsibility to collect the parcel from the place and in the time scale indicated. If the deadline is passed, the products will be returned to GREYHOURS Limited and it will be your responsibility to make contact with our customer services to organise another delivery at your cost.
How can I make an exchange or get a reimbursement for a GREYHOURS product ordered over the internet?

We accept returns and exchanges within 7 days following the delivery of your order. All returned watches must be unworn, untried and must be brand new. Please contact support@greyhours.com for further instructions.

How long will it takes to obtain a reimbursement?

If you want to be reimbursed, we will reimburse the invoiced amount within thirty (30) days of receipt of the product by our repair center by crediting the account corresponding to the credit / debit card used to place the order. Please note that there can be a delay in the transferring of money due to your credit card company.
Have you received my returned goods?

We will send you a confirmation email when we have received your returned goods. This process can take up to 1-3 weeks after you have sent the goods.